5 top Tourism Destinations in Uganda
5 top Tourism Destinations in Uganda. These are places richly blessed with stunning tourist attractions diversely spread out throughout all national parks. Its outstanding features are the largest freshwater lake on the continent. The source of the longest river, the strongest waterfall, the largest number of primates and the highest number of mountain gorillas worldwide.  Here are the top 5 destinations in Uganda that most tourists from around the world love to visit when they visit Uganda.
Murchison falls national Park as the biggest of the 5 top Tourism Destinations in Uganda
This Murchison Falls National Park is Uganda's largest national park and was gazette in 1962. It measures approximately 3,893 square kilometers (1,503 sq mi). The park is bisected by the Victoria Nile from east to west for a distance of about 115 kilometers (71 mi). Again it is also called Kabalega falls but it got its name Murchison from an explorer called Sir Samuel Baker in 1864. More so, he named it in remembrance of the president of the Royal Geographical Society called Roderick Murchison.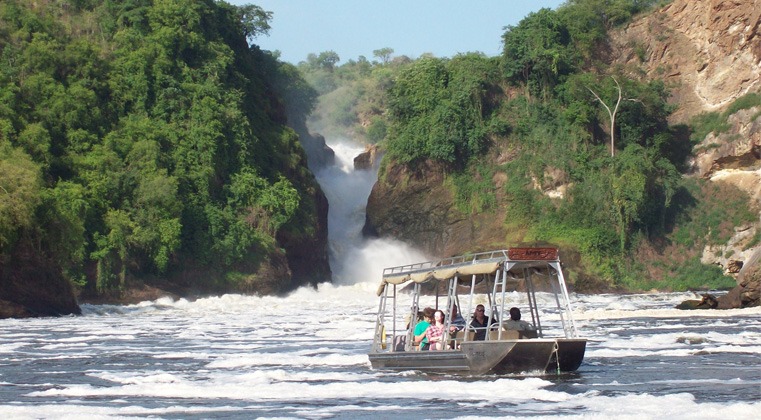 The Murchison Falls National Park sits on the shore of Lake Albert, in northwest Uganda. It's known for Murchison Falls, where the Victoria Nile River surges through a narrow gap over a massive drop. The park straddles the Ugandan districts of Buliisa, Nwoya, Kiryandongo, and Masindi. The driving distance from Masindi, the nearest large town, to the Kibanda area of the national park is about 72 kilometres.
What is Murchison Falls National park famous for?
The Murchison Falls National Park is popularly known for having the world's most powerful waterfall. The falls emits large volumes of water about 300 cubic meters per second or 11,000 ft³/s at a very powerful pressure. Murchison Falls National Park is also one of the best places in Africa to find the prehistoric-looking shoebill stork. Sightings of this bird are almost guaranteed on a boat trip on the Victoria Nile towards the Lake Albert delta.
These boat trips are, in fact, great for checking off many water-associated birds. In addition, the park's impressive checklist contains more than 450 species in total. Migratory birds are present from November to April.
The park is also has a large number of wildlife. These animals are spotted while on a boat safari and during game drives in the park. Such common animals are Giraffes, Buffaloes, Uganda kobs, Bushbucks, Elephants, Hartebeests, Orbis, waterbucks, warthogs, and hyenas mention but a few.
For the case of seeing the big cats of leopards and lions, you must have an early morning game drive to see them before the sun is too much which forces them into their hideouts. You can also have a chance to see the endangered chimpanzees, blue monkeys, red-tailed monkeys, olive baboons, black & white Colombus monkeys, and many others
Bwindi Impenetrable National Park the second of the 5 top Tourism Destinations in Uganda
This Bwindi Impenetrable National Park (BINP) was upgraded and gazetted a National Park in 1991. This was following various protection status as a forest reserve and animal sanctuary. It was later in 1994 enlisted as one of the world heritage sites.
The Bwindi Impenetrable National Park (BINP) is in southwestern Uganda. The park is part of the Bwindi Impenetrable Forest and is situated along the DR Congo (DRC) border. It is also next to the Virunga National Park and on the edge of the Albertine Rift.
A safari to Bwindi Forest is a visit to one of the most amazing and special places on planet earth. Since 1994 the park receives a considerable number of travelers.  This is throughout the world to experience epic gorilla tracking. Experience the magic of the gorilla land – filled with majestic flora, amazing wildlife, spectacular waterfalls, pristine rivers and much more that provide ample opportunity for great exploration and photography.
What is Bwindi impenetrable national park famous for?
 It is most notable for the 459 Bwindi gorillas, half of the world's population of the endangered mountain gorillas. 14 habituated mountain gorilla groups are open to tourism in four different sectors of Buhoma, 5 top Tourism Destinations in Uganda, Ruhijja, Rushaga and the Nkuringo in the Districts of Kanungu, Kabale and Kisoro respectively all under the management of Uganda Wildlife Authority. The park is also a sanctuary for colobus monkeys and chimpanzees.
Bwindi should be on every birder's itinerary. The park offers some of the best montane-forest (mountain-forest) bird watching in Africa. There are an estimated 350 bird species, with 14 not recorded anywhere else in Uganda. There are 23 birds unique to the Albertine Rift (which is 90% of all Albertine Rift endemics). These include Neumann's warbler and blue-headed sunbird. Migratory birds are present from November to April.
Queen Elizabeth National Park
Queen Elizabeth National Park ( QENP ) is one of Uganda's oldest parks. It was gazetted, along with Murchison Falls National Park in 1952. The park was initially known as 'Kazinga National Park' before it was renamed in 1954 This was to commemorate a visit by Queen Elizabeth II of Great Britain. It is understandably Uganda's most popular tourist destination. Furthermore, the park's diverse ecosystems, which include sprawling savanna, shady, humid forests, sparkling lakes and fertile wetlands, make it the ideal habitat for classic big game.
The park is known for its abundant wildlife, including African elephant, African buffalo, Ugandan kob, hippopotamus, topi, waterbuck, warthog, giant forest hog, Nile crocodile, leopard, spotted hyena and chimpanzee. Overall, the park is home to 95 mammal species and over 600 bird species. More so,It is the only national park and world's only game park with tree-climbing lions
Best time to visit Queen Elizabeth National Park.
The Best time to visit Queen Elizabeth National Park is not specified as seasons change accordingly and the park is an open place. However, the best time to visit Queen Elizabeth National Park for wildlife viewing is from January to February. More so,  June to July because this is the dry season. Dry season allows a good view of animals because the grass is short which gives a best view of animals.
Kibale national park
The Kibale National Park is a national park in Kabalore district. It is in western Uganda, protecting moist evergreen rainforest. Again It is 766 square kilometres in size and ranges between 1,100 meters and 1,600 metres (5,200 ft) in elevation. Further,  park was gazetted in 1932 and formally established in 1993. To protect a large area of forest previously managed as a logged forest reserve. The park forms a continuous forest with Queen Elizabeth National Park.
What is Kibale National Park known for? 
It is known as the "primate capital of East Africa" with 13 different primate species. More so, It is home to more than 1,450 chimpanzees protected within its borders of 795km2. It is by far the best place to see Chimps in East Africa. The chimpanzees have been habituated for over 26 years. This is giving you a chance to see the great apes in their natural environment.
Other mammal species in the Kibale forest are estimated at 60 and include leopards, Duikers, Forest Elephants, Forest Buffaloes, Golden cats, Warthogs, and Bush Pigs. Generally, animals found in the forest are shy and more aggressive. This is because fewer people visit the parks compared to savannah parks that are usually teeming with people.
And Kibale national park is also a birdwatcher's paradise. More than 370 species have been recorded and many are forest specials, including the sought-after African pitta. Four bird species have not been recorded in any other national park of Uganda: Cassin's spinetail, blue-headed bee-eater, 5 top Tourism Destinations in Uganda, Nahan's francolin and Masked apalis. The best bird-watching spot is the Bigodi Wetland Sanctuary – a community project where experienced guides take you on a four-hour trail. Migratory birds are present from November to April.
Kidepo valley national park
This Kidepo is Uganda's second biggest National Park (1,442km²) and one of Africa's last great wilderness areas, a tract of rugged savannah dominated by Mount Morungole and broken by the Narus Valley in the south west and the Kidepo Valley in the north east.
It was gazetted into a national park in the year 1962 and currently hosts over 75 species of mammals and 470 species of birds. It is located near Karenga in Kaabong District, in the northeastern corner of Uganda.
Kidepo valley national park can  be accessed by public means of transport in that there are buses that travel day and night therefore you can board a bus from Kampala via Jinja, Mbale, Soroti, Moroto, and Kotido towns which take about 14 hours' drive and from Kotido you will hire a private vehicle to the park
What is Kidepo valley national park famous for?
Kidepo valley national park is an Important Birding Safaris Area in Uganda with close to 450 bird species and a dream Uganda tour destination for bird-watching expeditions. A dozen out of the 50 birds of prey species in Uganda are endemic in the Karamoja regions. Most spotted birds include; the Abyssinian roller, Abyssinian scimitarbill, Black-breasted barbet, Chestnut weaver, D'Arnaud's barbet, Fox kestrel, Golden pipit, Greater kestrel, Jackson's hornbill, Karamoja Apalis among others
Furthermore, Kidepo Valley National Park also offers excellent lion and elephant sightings. Herds of up 1,000 buffalo are often encountered. Cheetahs are seen with increasing frequency, and it is home to many dry-country species, among them caracal, aardwolf, greater and lesser kudu, mountain reedbuck, and Guenther's dik-dik.
The best time to visit is in the dry season that lasts from September all through to March, vegetation is sparser, and sighting animals around watering holes is easier, You can choose your favorite tour package that will satisfy you with the above natural wonders