'The Buhoma community of Bwindi Impenetrable National Park
Bwindi community is one of the outstanding Uganda cultures genuine to visit on your Safari to Bwindi Impenetrable National Park to understand the modern and ancient traditions of Africans living in different parts. Bwindi community has a lot of different cultural visits that are so astonishing to tourists. It provides knowledge and unforgettable memories to anyone who sets a foot in the area. Some of the Bwindi cultural encounters include;
The Buhoma community in Bwindi impenetrable national park is such an interesting community. It gives you a chance to learn more about the daily activities of the local people who live near the forest. It also gives you a chance to interact with the local people and maybe assist the ones that live near protected areas colonizing the Mountain Gorillas. River Muyaga is a popular river among the local people of Buhoma.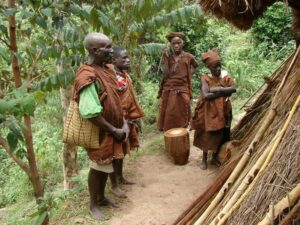 Buhoma sector is the first trailhead to open gorilla trekking in Uganda back in 1993 with one gorilla family, which heralded a new era for this little previously unknown trading center. Gorilla tourism created all kinds of jobs for the communities around the misty jungles.
Today, the Buhoma sector boasts of some of the most exquisite wilderness safari retreats in the country, and even mountain gorillas like to walk out of their cold jungle to taste the luxurious plants in Buhoma's tastefully decorated camps and gaze at the smiley visitors that flock in from all corners of the world with weird toys.
More so, now the community itself is one of the tourist attractions where tourists relax their minds after a busy day of gorilla trekking. When one is going for a walk, it starts at Buhoma community and you will do it in the evening after your Gorilla trek and involve yourself in a community walk with a knowledgeable and informed guide who will find you with information.Buhoma community Of Bwindi Impenetrable
What do you expect when you have a cultural visit to the Buhoma community?
The Buhoma community village walk provides guests with an opportunity to support the local community whilst enjoying visiting various interesting places as you follow a walking trail through the village. Highlights include the traditional healer, banana brewery and Mukono Primary school where you may interact with the children
You will get to see women washing their clothes in a traditional way that is with the use of a special local stone that produces a slimy substance once rubbed against the clothes and this acts as soap.
The walk is rewarding how these locale people are resourceful personally observe and learn from their lifestyle. You will make a stopover at the women weaving baskets in really a creative way while others make unique and beautiful handicrafts that are so irresistible to buy.
The community traditional healer is one of the most important people among the Buhoma community. He uses local herbs from the forest to come up with medicines that cure most of the diseases. Isn't that amazing or what?
Among the tribes you will meet on the visit are the Batwa community that includes the Batwa pygmies who are not afraid or selfish to share their profounding traditions and hereditament with any tourist. They offer you an opportunity to see
how they lived and hunted in the traditional manner. They offer knowledge on their different dishes and even give you a chance to taste their amazing meals. They let you experience their hunting techniques.
They also offer entertainment in terms of songs, cultural dances and folktales.
The Nyundo Community Eco-Trails is another Cultural encounters in Bwindi. It was established by community members as a sustainable alternative to agriculture hence providing both an income and an incentive to conserve the forest. It provides knowledge about sustainable methods of fish farming, which is then sold to local lodges. You get to enjoy eye-catching scenery surrounding the waterfall where only kings may bathe in the old days. Get to visit the local banana beer distillery and a banana plantation that offers the staple food to the locals.
Bwindi offers you traditional Skills trail. You get to know about the local bread making, yoghurt making and also the preparation of liquor that is made from bananas.
Buniga Forest Walk is one of the best community based adventures you can enjoy while on a gorilla safari in Bwindi Forest National Park that is in South Western Uganda. The walk is a one kilometer trail and is guided by the local Batwa hence proving first-hand information and knowledge. You will get to learn more about the forest and how it was able to sustain the first human species offering the basic needs. The forest offers habitat to mammals and primates such as the duikers and Lhotse's monkey. The forest is also known for its diverseness of bird species with over hundred species of birds.
Nkuringo Community Conservation and Development Foundation (NCCDF) is stationed at the breezy slopes of Bwindi park hence offering breathtaking scenery. It offers you memories of the stone age period from the clothing with sheep-skin to the skills used in making tools like machetes and knives. You also get to learn the skillful uses of different plants.
When you visit Bwindi Impenetrable National Park, Uganda with having a visit to the above communities, your visit will be meaningless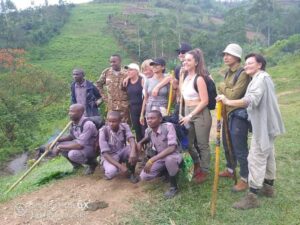 Always send your inquiry about any Safari in Uganda, Kenya, Tanzania and Rwanda via our email, info@umarellavoyagesafaris.com