Sipi Falls Uganda
Sipi Falls Uganda is located in the East of Uganda. Itis approximately 277km from Kampala Uganda's capital in the Kapchorwa district. These falls are found on the foothills of Mountain Elgon just at the edge of Mount Elgon National park. The falls also nearsthe Kenyan border to Uganda.
"Sipi" is derived from a Sabiny word "Sep" which is a name for a wild banana-like plant. The plant grows along the river bank. This plant is used by the locals for treatment of some diseases like measles and fever. Hence the name Sipi falls.
The falls are located beyond Mount Elgon National Park boundaries. Rivers that originate on Mount Elgon trickle through narrow cliffs before collapsing at the mountain's base.
Touring the Sipi Falls is ideal for families, couples, and anybody looking for an adventurous. Furthermore, those looking for enjoyable day away from the stress of metropolitan life.
Why you should not miss out visiting the falls while in Uganda.
Hiking of falls
Hiking of falls is one of the major reasons why you should not leave Uganda without hiking sipi falls. At Sipi Falls there are three waterfalls, each falling from a different height. They are separated by high hillsides in Kapchorwa district in eastern Uganda.
However, hiking to the falls is much different than observing or photographing them from afar.
The falls being located at different areas along the cliffs-dominated foothills of the Mountain Elgon. You cannot see all three of them at once. For this matter you have to hike to each of the waterfalls. This following a trail approximately 7 to 8km. It is a bit strenuous though, as there are some steep spots. Furthermore, rocks give a bit of a challenge especially when it rains. The trail becoming all muddy and slippery. A walking stick comes in very handy for much needed support.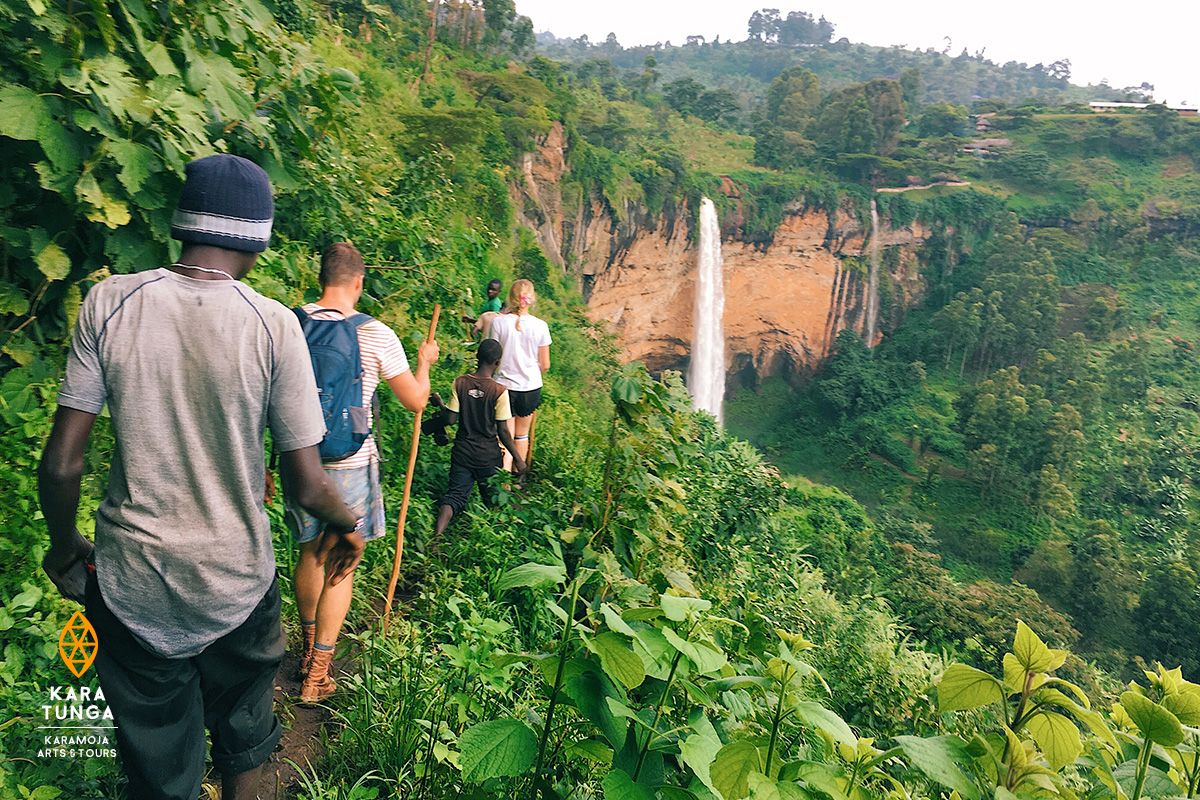 The trek meanders through villages and coffee and banana farmlands and also offers excellent views. You meet the massive wall-like cliffs and the green slopes of Mt. Elgon from. In addition, you have to reach up to the flat grounds below the foothills across Kapchorwa.  And in the distance panoramic views of the Karamoja plains.
Hours of Hiking
On average, it takes three hours to hike all three falls. However this so much depends on one's pace & fitness levels. It is wiser though, to plan for four hours to cater for stops and time spent at the different falls. There are a number of starting points, depending on which waterfall you intend to start with or hike to.
International guests will need to hire a local guide for around $5 to take them to the falls. A guide is necessary because the paths are not well signposted and may be confused with village routes.
Local guides are familiar with the area. Their assistance will ensure that you do not become disoriented. Their assistance is especially valuable during the rainy season. This is when the trails become more difficult to navigate due to the accumulation of muck.
The guides can assist you with heavy luggage and navigating the hike's most difficult stages. They are familiar with local land and can assist in many things.  Thses guidesassist in explaining the history of the falls.  Furthermore, giving facts about the various types of plants along the path.
Bird watching
You are a birder, you can't miss out on visiting sipi while on a safari in Uganda. In fact mountain Elgon national park has around 275 bird species. So you see most of them while in this area. You also see some birds while seated in the gardens of Sipi River lodge. If that is the accommodation you have opted for.
Birding in Sipi area is also done Around Kapkwai Forest Exploration Centre there are a few great birding opportunities, for instance along the trail to Cheptui Falls and in the secondary forest. Species that can be found here are the the African Goshawk, white-chinned Prinia and African Blue Flycatcher.
Visit coffee farms.
The coffee plantations are on the lower slopes of Mt. Elgon; while at sipi add on your experience by visiting these plantations. The coffee is majorly Arabica coffee and grows within altitudes 1600m and 1900m, it is the cash crop to the Bagishu and Sabiny in this area, during this visit you will learn also how coffee is harvested, processed, roasted and other things, you will also be able to see how people live in these communities.
Cultural encounters
The locals who basically stay around Sipi area are the Sabiny. The community usually organizes a traditional dance to entertain their visitors and you will also learn about their way of life; marriage, Dress code, food .Also this place is known for female and male circumcision, though that of females has reduced over the years since it was found to be unhealthy and risky to women, but that of men is an amazing activity to witness especially if you visit thus area during the time circumcisions are done.
Rock climbing/Abseiling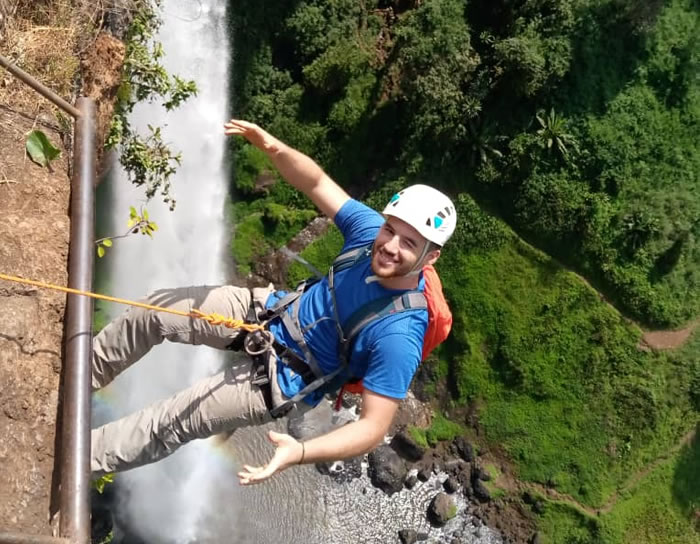 You need to do abseiling in Uganda; sipi is the place to go. This activity is done at the main waterfall and is enjoyed by adventurous travelers. All the equipment need to do the activity can be got on ground. There are experienced guides who guide participants through the whole experience.
Elgon Trekking
Mt Elgon (4321m) is the eighth highest mountain in Africa and the second-largest freestanding volcanic base in the world rising more than 3000m above the surrounding plains and dominating the local landscape. Sipi falls is one of the main starting points for those interested in climbing mountain Elgon. The mountain is shared by Uganda and kenya although the largest part is in Uganda. Climbing of mount Elgon takes between 5-6 days depending on the overall fitness and experience of hikers.
Visiting Wildlife Reserves
The Pian upe and Matheniko Game reserves are found in the plains of Karamoja. These game reserves have some interesting species like ostriches, the roan antelope, Kudus, gazelles and other species of antelopes. If you love wild animals, then this reserve should give you a taste of some of Uganda's famous wild animals.
Mountain Biking
When you visit sipi falls, consider mountain biking as part of the activities this area can offer. There are lots of trails set up around this area specifically for biking around Sipi River Lodge. Tracks ranging from hard-core technical rocky climbs to easier downhill routes.
The tracks provide more than a biking opportunity, you have a chance to bike the lower sides of Mount Elgon, have great views of the coffee plantations, the three Sipi falls and Sipi river and Kapchorwa plains. You can as well bike through the community and check out how the local people live.
Nyero Rock Paintings
The Nyero rock paintings in Kumi, two hours from Sipi falls are some of the most historical rock art in the nation. They are revered as a sacred place for the Gods and now hold a lot of Uganda's and even the heritage of mankind. Immerse yourself in history and tour how the ancient people used to live through their art. Marvel at their advanced and artistic way of interpreting life.
Touring the Sipi Falls is ideal for families, couples, and anybody looking for an adventurous and enjoyable day away from the stress of metropolitan life.
How to get to Sipi falls Uganda
Getting to the Sipi waterfalls is mainly done by road transport from any of the major towns in Uganda. The closest city to the falls is Mbale which is about 45km away on a well-surfaced road. From Kampala-Uganda's capital, Sipi is about 277 km away on a well-surfaced road drive past the source of the Nile River in Jinja. Along the way you will be able to see beautiful green vegetation and rocks along the slopes of Mountain Elgon, Driving to this area also adds to your unforgettable experience before you even reach.
When To Go To Sipi Falls Uganda
Sipi falls is a nice place to visit all year round. Uganda has a tropical climate and this means that it is warm all year and has no drastic changes. Sipi falls itself is always cool, in fact, cooler than all the areas around, and is a wonderful place to visit to escape the hustle and bustle of city life. As mentioned before a swim in the Sipi waters can be next to heavenly and the environment is good for meditation. The scenery will have you thanking God for his creation.
The Sipi falls are a phenomenon to many visitors, both local and foreign, yearly. Regarded as one of the most romantic places in Uganda, the falls are a series of three prominent waterfalls, with the longest drops as high as 100m.
Explore Uganda with Us